Talk:Lain visual novel project
From Serial Experiments Lain wiki
AMG, you are a goddess amongst men. If you are the artist, I have confidence that this could be done well. Were you the person that initially suggested this? Bytor
I would like to offer help, if needed. I'm not much of a visual artist nor programmer, but could help out with GUI design or basic Ren'Py code. In addition to that, I could perhaps provide a Japanese translation (I'm the Japanese studying mebby weeaboo) or provide sound FX and other help with audio (I have a decent large diagram microphone and some audio hobbyist background). Or whatever else you might need help with. Let's make this happen! --アラベスク 15:13, 15 December 2012 (UTC)
Project management platform?
What sort of setup will we need for the software? Should we have subversion repository, or would something simple like google drive be enough? Also, I think it might be best for us to use an Agile-like process for working on this. (can you tell I'm a programmer :(? ) Since this will be several short pieces, we can work on one, and start with a bare structure, and then flesh it out as the pieces are created. Bytor 16:15, 15 December 2012 (UTC)

Not entirely sure what's going on here. May need to retrieve bear hat before proceeding further. ...I tried putting together the start of Lain's life and Chisa's story in Ren'Py just now. All my Lain screencaps are 480 x 360, but they scaled up surprisingly well. It's standard for VN backgrounds to look blurry, right? Do we want to specify a more Lain-like typeface? I was thinking of Courier New or something like it. 02:13, 16 December 2012 (UTC)Amysteriousgal

I tried using Cutive Mono [1] just now. It's under an OFL and looks like this: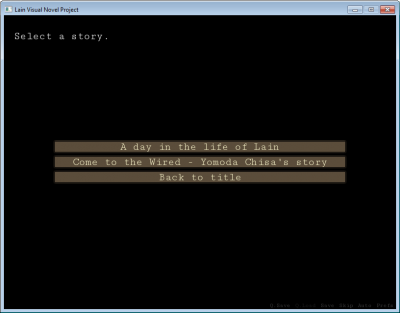 What do you think?
Regarding the music
By the way, should we want to make this project comply copyrights (not that I really care, but it'd be nice), we could consider using available open music out there. For example, Nine Inch Nail's "Ghosts" has been released under a Creative Commons licence. While of course not identical to the SEL soundtrack, I personally think it comes really close to the thematics described at the planning page, and to those of SEL in general. Do give it a listen if you have the time, and let me know what you think. --アラベスク 15:27, 15 December 2012 (UTC)

I made a somewhat minimalist BGM loop with this project in mind. Do feel free to assess. --アラベスク 15:15, 21 December 2012 (UTC)
Locked pages
As a test, I just semi-protected this page. アラベスク, could make sure you can still edit it? Bytor 01:05, 16 December 2012 (UTC)
Art
So I drew Lain for the first time in ages. How does it look? Does this style work with the lighter stories? The darker ones will probably have duller shades of the same colours, plus possibly some textures. Amysteriousgal 14:57, 17 December 2012 (UTC)