Shibuya
From Serial Experiments Lain wiki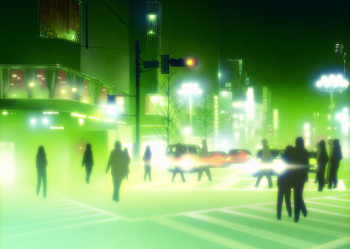 Shibuya Ward is a prominent setting in Serial Experiments Lain. Lain and her friends, Alice, Juri, and Reika, often go there to hang out and shop, and sometimes to visit Cyberia. Mika also visits Shibuya to spend time with her boyfriend.
Lain's house is in Setagaya, a ward adjacent and to the east of Shibuya. Minato Ward, where the employer of the men in black keeps his office, is adjacent and to the west of Shibuya. Suginami, the ward in which Triangle Staff was located, also shares a small piece of border with Shibuya.
List of real-life Shibuya sites in Lain
The following is a list of places seen or referred to in Lain that can also be seen in real-life Shibuya.
Hachiko Square Scramble Crossing
Layer 05 begins with a monologue by the voice of Masami Eiri accompanied by a montage of several images. Almost all of these images are recognizable as views from the famous scramble crossing by Shibuya Station, though many of the businesses' names are slightly altered. The views include landmarks such as the Center Gai entrance, the statue of Hachiko, 109, Men's 109, and the entrance to Shibuya Station. Later in the episode, Lain's face is displayed on the large screen mounted on the front of the Men's 109 building.
A narrow shopping street, one of the streets that radiates out from the scramble crossing's intersection. According to Konaka's script of Layer 01, the building Chisa jumped off of was on this street.
Layer 03 begins with a blurred photograph of Shibuya Police Station, where Lain is taken for statements after the shooting at the end of Layer 02. The station is located to the east of the train station, in a 15-storey building. In Google maps, the portion of the building in the photograph is obscured by a flight of stairs leading to pedestrian overpasses.
This train line runs through Shibuya, making a stop at Shibuya Station. According to information provided in Layer 09, Masami Eiri killed himself on this line between Harajuku and Yoyogi, two other stations located in Shibuya.
External Links