Misato
From Serial Experiments Lain wiki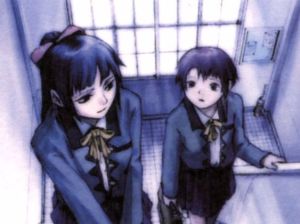 Misato is Lain's best friend in the game. She is very talanted and good looking. After being accused of plagiarism at an art festival, she decides to move away due to rumors spread by her classmates. Just before the end, Lain got email to her hidden site from Misato, however, it later turns out that the dates and times were fabricated.
Personality
Misato is very talented at drawing. She teached Lain how to draw on a computer. Her drawing of a Pegasus, which she submitted at the cultural festival, impressed prestigious friends of Kazami Sensei, they wanted to showcase it at the prefectural exhibition. Misato has been playing the violin since she was very young and has also participated in the competitions. Once, she gifted Lain a CD where she plays on it.
Lain constantly compares herself to Misato. They both share an interest in the computers, rarely talk about themselves, and are passionate about painting. However, unlike her, Misato excels in physical education and, according to Lain, is more beautiful. Misato was very popular in school due to her talents and appearance.
Family
Misato lived in a rich neighbourhood in a very fancy house. Lain said that Misato`s mother is very beautiful and looks like an actress.
Cultural Festival
During the cultural festival, Misato's painting featuring a Pegasus was accused of being a plagiarism of a japanese artist's work that had been showcased in an American magazine. As a result, her drawing was not allowed to be exhibited at the prefecture's exhibition. After that, Misato stopped attending school and secluded herself from everyone. Lain couldn't believe that she could steal someone else's artwork, so she emailed the magazine using the net. After some time, she received a response stating that the sketch drawn by Misato had been created two months earlier. Afterwards, Misato moved away without saying anything to Lain.
Misato and Touko
Touko Yonera, Lain's counselor, interviews Lains classmates at school, one of whom being Lain's childhood friend Kyoko, about Misato, but turns out, they don't know anyone with that name. And thus, Touko concluded that she could be Lain's imaginary friend. However, it is not confirmed, as we do see an image of what appears to be Misato in the game, and Lain defends her existence, getting angry at Touko over this accusation.
Characters of the Serial Experiments Lain Game
[ × ]
Iwakura Family
Touko's Friends
Other