Serial Experiments Lain Ultimate Fan Guide
From SEL wiki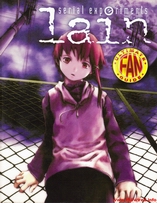 The Serial Experiments Lain Ultimate Fan Guide is an guide to the anime written by Lucien Soulban and first published by Guardians of Order Inc. in 2002.
It contains mainly summaries of the various episode aswell as a general information about the people, places and organizations in the anime along with some artwork and concept art.
It also features some source material for the BESM (Big Eyes Small Mouth) Pen&Paper roleplaying game.
BloodBerry from the thewired.info is working on a scanning of the book and the first part (featuring the summaries), a link can be found on their site.
Serial Experiments Lain media