Omnipresence in Wired
From SEL wiki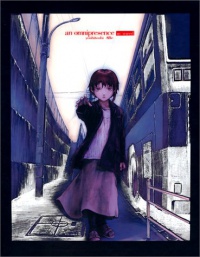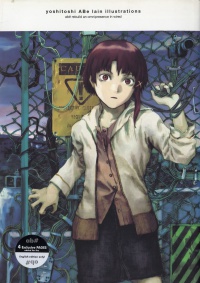 An Omnipresence in Wired is the Serial Experiments Lain artbook that was released only in Japan in 1999. A heavily modified version, ab# rebuild, was released in 2006 in both Japan and the United States.
It contains illustrations by Yoshitoshi Abe, some of which feature text by Chiaki Konaka. The manga The Nightmare of Fabrication is included.
Note that any of the following information regarding the 2006 version is obtained from the hardcover English edition by Digital Manga Publishing. If you have the softcover edition, or the Japanese edition from Wani Magazine, please feel free to edit this page with information on them.
Contents
Under construction lol
an omnipresence in wired (1999)
Page No.
Contents
Description
001
Title page
The title of the book with a bunch of identical pictures of lain, except with different photoshop effects added to them.
002
Contents
The book's contents page. Most of the data in this table is taken from this page. Except the descriptions.
003
Introduction
A few paragraphs by ABe, with a translation, talking about his concept of Lain's existence and how it was manifested in his creative process.
004
the original layers
See Layers (illustrations) for more info.
046
VHS/LD jackets (lif.)
052
sound track cover (CD)
055
hair cut
056
pre-image
058
posters & others
066
game illustrations
078
special issue "the nightmare of fabrication" (DC1029)
Untranslated in this edition. See Manga for more information.
097
sketches (monochrome)
118
about the layers (AB with CJK)
Untranslated. Abe and Konaka having a conversation about the Layers illustrations. The title of each Layer illustration is listed with the magazine issue it was originally published in.
122
about all of the illustrations
Untranslated. An index of comments by Abe about every illustration in the book and information on where each of them was originally published.
127
history of AB
Untranslated. A paragraph of general information about Abe, then a "general chronology" of events in his life starting in 1993 when he entered college, then a "fragile goods chronology" listing every computer he'd owned since 1990 (I think?)
The book has a total of 128 pages.
yoshitoshi ABe lain illustrations: ab# rebuild an omnipresence in wired (2006)
Note: The pages are not numbered, so this might not be very useful. This book doesn't even have a contents page.
Page No.
Contents
Description
001
Title page
A picture of Lain on a semitransparent piece of paper.
005
01 touch of illustration
Various illustrations paired with their rough sketches, pre-effects images from a few of the layers with their coloring altered
040
02 comic
the nightmare of fabrication (DC1029) (translated of course)
063
03package illustration : DVD+LD+CD
076
04 others : game+poster+etc
091
05 layer
The aforementioned layer illustrations.
122
06 pencil drawing + step by step
Corresponds with monochrome sketch in original book.
141
07 personal
Color photos by Abe, and a "short history" of Abe beginning in 1993
149
Liner notes
corresponds with "about all the illustrations" in the original book. Has the page number of the illustrations being described, but if you count the pages you'll always end up a few pages off.
This book has a total of 153 pages.
Differences between the two editions
What Rebuild has that the original does not have
Two new illustrations and their rough sketches

Lain under an overpass
Cover illustration

Pre-effects images of some of the Layers
Step-by-step for the Layer 02: Girls illustration
What the original has that Rebuild does not have
Gekikare! A Sales Promo Ad By Dame-Dame Lain (comic originally from a doujinshi called Tareme Paradise 5)
Many of the rough, conceptual sketches in the monochrome sketch section
Other miscellaneous differences
Layer text: In Rebuild, the text of the Layer illustrations were re-translated and of course the English was re-typeset, sometimes in completely different positions. A typesetting error was introduced in Layer 11. In some of the illustrations the Japanese text was also re-typeset, and in some cases completely removed. The Rebuild translation is perhaps better than the original's in general, but the typesetting looks better in the original as it's styled to blend with the image. In Layer 09, the patch of code floating to the right of lain was replaced with different code. Excepting the Layer images, there is no Japanese text to be found anywhere in the English version of Rebuild.
Pencil Sketches: As stated above, there are many rough sketches in the original Omnipresence that don't appear in Rebuild. However, those sketches that do appear in Rebuild are generally much larger, showing more detail.
Conclusion
Each has images the other doesn't have. They're both nice and you should get them both.
Serial Experiments Lain media